This is an archived article and the information in the article may be outdated. Please look at the time stamp on the story to see when it was last updated.
A cyclist was killed Monday morning while trying to stop a hit-and-run driver from fleeing the scene after the driver hit his friend in a Long Beach intersection, police said.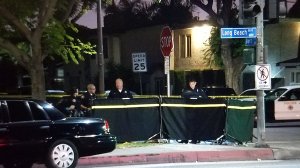 Police responded to the intersection of Long Beach Boulevard and East Bort Street about 1:17 a.m. after a witness called to report the crash, Long Beach Police Department Detective Watt said.
Two cyclists had been crossing the street at the Long Beach Boulevard offramp of the 91 Freeway when one of them was struck by a 2000 Ford Expedition, according to police.
The uninjured cyclist then jumped on the driver's side running board of the SUV, reached into the window and tried to turn off the ignition before the driver took off, a Long Beach police news release stated. But the SUV sped off with the cyclist clinging to the side of the vehicle.
The driver was traveling southbound on Long Beach Boulevard when, several blocks later, he made a turn at a high rate of speed at Bort Boulevard. At that point, the cyclist fell to ground, hitting his head on the curb, the release stated.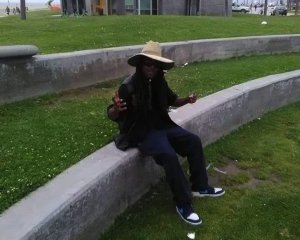 The victim, identified only as a 51-year-old resident of Los Angeles, died at the scene. His name has not yet been released, but cyclists in the area said his name was Odie Evans and he went by the nickname "Dreed."
Witnesses told authorities the driver then circled the block once before abandoning the SUV in the middle of a service road and running off.
Investigators did not provide a description of the driver but said they know who they are looking for.
The bicyclist who was initially struck suffered only minor injuries, Watt said.
A stretch of Long Beach Boulevard between East Bort Street and West Adams Street was closed in both directions due to the crash, but has reopened.
Police initially said the cyclist who died jumped on the hood of the SUV, but they later clarified what they think happened. They also initially said the victim was in his 30s and died shortly after police arrived, but authorities again provided new information as the day went on.
Dreed was part of the Tobin Riders Bike Club, a custom bicycle club in Compton, according to fellow members. Friends gathered at the scene to remember  him Monday evening.
Krystal Moore told KTLA that Evans had a big heart and he would have done what he did for any of his fellow members.
KTLA's Cindy Von Quednow contributed to this story.