This is an archived article and the information in the article may be outdated. Please look at the time stamp on the story to see when it was last updated.
A grandmother was struck and killed in a San Bernardino crosswalk by a hit-and-run driver who left her to die in the street Thursday night, authorities said.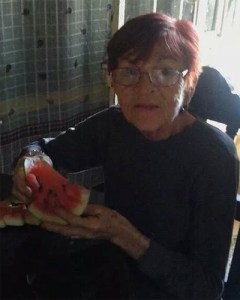 Maria Lazarraga was crossing at the corner of Ninth and L streets around 5:38 p.m. when a white, newer model four-door Honda Accord sped through the intersection and struck her, according to a news release from the San Bernardino Police Department.
Although police identified the woman as 78-year-old Maria, family members told KTLA they called her Guadalupe and she was 80 years old.
The driver fled without stopping to render aid, the news release stated.
Lazarraga was pronounced dead at the scene.
Surveillance video of the driver's vehicle was obtained from a business near the intersection.
Thursday's incident was the 10th deadly crash to happen in San Bernardino in October and 37th this year, Sgt. Vicki Cervantes said.
Anyone with information was asked to call Detective Devin Peck at 909-384-5664.
KTLA's Ashley Soley-Cerro contr