This is an archived article and the information in the article may be outdated. Please look at the time stamp on the story to see when it was last updated.
A man suspected of driving under the influence was arrested after a car plowed into the Downey City Library early Thursday morning. He had just been released hours earlier following an arrest on a separate traffic violation, police said.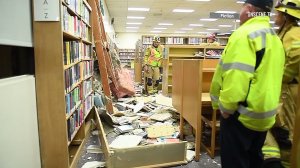 The single-vehicle crash was reported about 1:33 a.m. at the library in the 11100 block of Brookshire Avenue, Downey Police Department Sgt. Mike Parino said.
The driver of the car, who was the vehicle's only occupant, was not injured in the crash and was still inside the vehicle when officials arrived, Parino said.
He has not been identified, but police confirmed that the 25-year-old male driver from Downey had been arrested on a traffic warrant and released a few hours before the crash.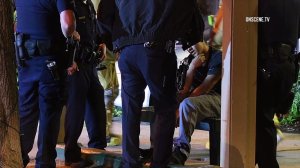 It was unclear what caused the crash, but video from the scene showed the rear end of a Volkswagen sedan that had apparently backed through a library wall with some force.
Shelves and books were knocked down inside the library.
Authorities arrested the driver on suspicion of driving under the influence, Parino said.
Despite the incident, the Downey Library tweeted they would be open for regular business hours Thursday.
KTLA's Melissa Pamer contributed to this article.
The Downey City Library is OPEN normal business hours today. 10am-8pm

— Downey City Library (@DowneyLibrary) March 9, 2017
— Downey City Library (@DowneyLibrary) March 9, 2017