This is an archived article and the information in the article may be outdated. Please look at the time stamp on the story to see when it was last updated.
LOS ANGELES (KTLA) — People across Southern California were expected to hit the roads on Friday to get out of town for Memorial Day Weekend.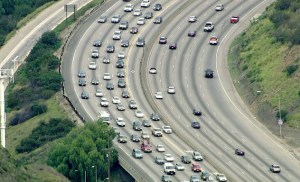 The Auto Club of Southern California's annual report showed 60,000 fewer travelers this year compared to last, but that was mostly among air travelers.
More than 2.2 million people were still expected to travel by car, according to AAA, and drivers were warned to be prepared for traffic.
The state's gasoline prices were expected to stay above $4 per gallon for the holiday weekend.
The average price per gallon in the Los Angeles and Long Beach was $4.08 on Friday.
The average price in Orange County was $4.05, and in the Inland Empire the average was at $4.04.
Overall, Americans were expected to spend $1.4 billion on gasoline over the three-day weekend.