This is an archived article and the information in the article may be outdated. Please look at the time stamp on the story to see when it was last updated.
Recent drone activity over the Sand Fire burn area prompted officials to issue a warning Monday as firefighters continued to battle the raging blaze, which has scorched approximately 52 square miles in the Santa Clarita area.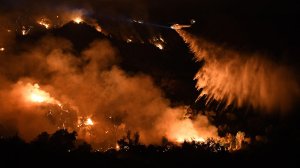 "Yesterday, we had a couple incursions in our airspace, which is already a very dynamic and very busy time for our aircraft during the firefight as the fire comes down to the neighborhoods," Angeles National Forest Fire Chief Rob Garcia said at a morning news conference.
Drones flying over the area had the potential to impede firefighter efforts from the air as they worked to protect property, Garcia explained. Crews are utilizing 26 helicopters in their efforts to contain the massive inferno.
The interference could result in the wildfire growing larger, possibly leading to even more damage and destruction from a fire that already has destroyed at least 18 homes, according to the federal InciWeb page for the incident.
"If you fly, we can't, and that does have an impact on our aerial assault," Garcia said.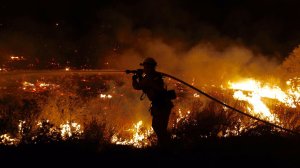 Typically, officials ground all aircraft for about 30 minutes after a drone is spotted over a brush fire, the Los Angeles Times reported.
The drone activity occurred over the Bear Divide as flames burned the area, according to InciWeb.
A temporary flight restriction issued by the Federal Aviation Administration is in effect over the Sand Fire burn area, and criminal charges could be filed against any operator of a private aircraft or drone that violates the federal order, the page stated.
Nearly 3,000 firefighters are battling the 33,000-acre Sand Fire, which was just 10 percent contained three days after it erupted.