This is an archived article and the information in the article may be outdated. Please look at the time stamp on the story to see when it was last updated.
A Los Angeles middle school student was injured when a package containing dry ice for a science experiment exploded Wednesday, authorities said.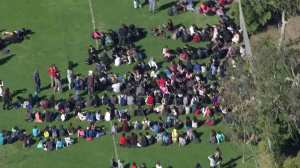 The incident happened midday at Mark Twain Middle School located at 2224 Walgrove Ave., in Mar Vista (map).
A student brought two packages containing dry ice to school for a 6th grade science experiment when one of the containers "popped," according to a watch commander from the Los Angeles Police Department's Pacific Division.
Students were supposed to build a volcano, according to Lt. David Crew.
The injured student may have been struck by either the dry ice or a piece of the container, the watch commander said.
A janitor reportedly found the second container and put it outside. A bomb squad was responding as a matter of routine.
The injured student was treated and released to his or her parent, according to school police.
Investigators characterized the incident as an accident, however the school was placed on lockdown during the investigation. Hundreds of students could be seen gathered at the far end of a sports field, away from school buildings.
Aerial video from Sky5 showed emergency vehicles parked outside the school.