This is an archived article and the information in the article may be outdated. Please look at the time stamp on the story to see when it was last updated.
An individual suspected of using a dump truck to take an ATM from an Artesia bank led officers on a pursuit on the 105 Freeway early Sunday.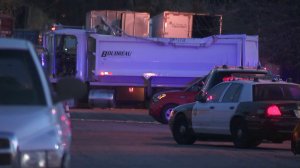 Deputies as of 10:30 a.m. were still searching for the suspected burglar, who's believed to be on foot after driving down an embankment off the 105 and ending up near Plaza Mexico in Lynwood, according to a law enforcement source.
Officers for some time lost sight of the truck after the driver went down the embankment, the source said, but dispatchers were able to use the ATM's tracker to trace the machine. When deputies found the truck, which crashed into multiple cars near Plaza Mexico, the suspect had already fled, the source said.
Crews at the site of the crash were able to recover the ATM, which belonged to a Chase bank.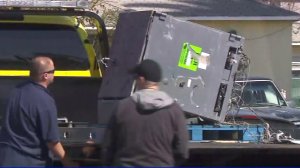 Deputies from the agency's Cerritos, Lakewood and Century stations were involved in the search, Lt. Michael Thomas said.
Authorities provided no further information.