This is an archived article and the information in the article may be outdated. Please look at the time stamp on the story to see when it was last updated.
LANCASTER, Calif. (KTLA) — A dust storm churned up by powerful winds forced officials to close the 14 Freeway in Lancaster for several hours on Tuesday.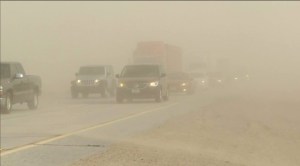 Both northbound and southbound lanes of the freeway were closed near Avenue A about 4:30 p.m., prompting the California Highway Patrol to issue a SigAlert for the area.
The sandstorm reduced visibility to dangerously low levels, and officers arriving at the scene encountered several vehicle crashes, CHP officials said.
A high wind warning was issued for the Antelope Valley by the National Weather Service.
Winds of 25 to 35 mph were expected, with gusts up to 60 mph, according to the NWS.
The freeway was reopened finally reopened around 8:30 p.m.