This is an archived article and the information in the article may be outdated. Please look at the time stamp on the story to see when it was last updated.
A ban on e-cigarettes in Los Angeles goes into effect at midnight on Friday in all areas where tobacco smoking was already prohibited.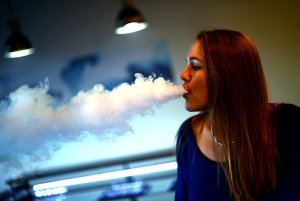 As with traditional cigarettes, the ban means "vaping" will be prohibited in bars, restaurants, and many workplaces and public spaces with the exception of  specially designated "vaping" lounges.
Similar measures banning e-cigarette use have been approved in other large cities.
Vapors exhaled by e-cigarette users could contain particulate matter and potentially toxic chemicals, according to Los Angeles County public health Director Jonathan Fielding.
But the "vaping" industry argued that there was no conclusive research that second had smoke from e-cigarattes was harmful.
Many users said the electronic devices, which allow them to inhale nicotine through water vapors, have helped them quit smoking tobacco.