This is an archived article and the information in the article may be outdated. Please look at the time stamp on the story to see when it was last updated.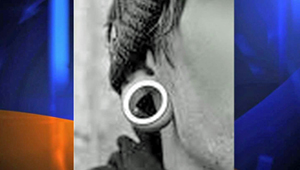 SYLMAR, Calif. (KTLA) — A sexual predator with distinctive ear gauge piercings is on the loose in Sylmar, and police fear he could strike again.
Police say the man attacked two women early Sunday morning at the Mountain View Manor Apartments.
The suspect dragged one woman 60 feet across a courtyard, beating her. But her screams drew the attention of neighbors, and he ran away.
The other woman was groped in a hallway as she was coming home from a party around 2 a.m. with her 2-year-old son.
"A guy entered here and asked me about my boyfriend," Araceli Martinez told KTLA.
She quickly turned away to try to unlock her front door. She says that's when the suspect reached up under her skirt and grabbed her.
The man also struck Martinez across the face several times. She finally escaped — all the while concerned more about her son's safety than her own.
"I started to scream," she said. "I looked at my baby. I was very afraid because I thought he can do something to my baby."
Authorities have dubbed the man the "Ear Gauge Stalker" because of his ear piercings.
Martinez told KTLA that the suspect was a black male, possibly as young as 18 years old.