This is an archived article and the information in the article may be outdated. Please look at the time stamp on the story to see when it was last updated.
A magnitude-4.6 earthquake struck near Big Bear Lake around 10 a.m. Saturday, according to the U.S. Geological Survey.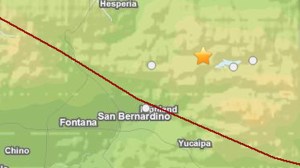 Nearby cities included Lake Arrowhead and Highland, according to USGS.
"When we got in the store, we had cans of dog food on the ground, from the shelves," said Steve Copley of Ma and Paw's Pet Supplies in Running Springs.
Multiple KTLA viewers reported feeling the quake in areas between Pasadena and Rancho Mirage.
The earthquake was initially reported to be 4.8 magnitude by USGS.
There were no immediate reports of injuries or damage, according to San Bernardino fire and sheriff's department officials.
A small rockslide near State Route 18 between Snow Valley and Big Bear Dam left multiple vehicles temporarily stranded and roadways in both directions closed as of 12 p.m., according to a California Highway Patrol spokesman.
CHP could not confirm the incident was related to the earthquake.
"We moved an estimated 30 cubic yards of material out of the stretch," said Shelli Lombardo, a CalTrans spokeswoman. "Historically, we've seen boulders from small rocks to the size of a semi-tractor.
"Unfortunately, there was one vehicle that Mother Nature decided to have an encounter with over on the 38," she said, referring to a nearby highway.
KTLA's John A. Moreno contributed to this report.