This is an archived article and the information in the article may be outdated. Please look at the time stamp on the story to see when it was last updated.
A fire broke out Sunday morning at an East Hollywood strip mall that was previously damaged by flames, officials said.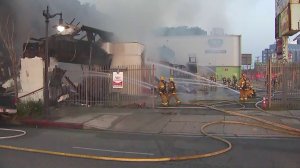 Firefighters responded shortly after 4:30 a.m. to the property at the intersection of Vermont and and Fountain avenues, according to Los Angeles Fire Department spokesman Branden Silverman. When they arrived, crews found heavy fire in multiple sections of the vacant building that burned in March 2017, the spokesman added.
Fire personnel were able to knock down the blaze, and they worked to protect an adjacent apartment complex, according to officials.
Fifteen residents were displaced from eight apartment units that sustained minor damage, Silverman stated. The Red Cross was called to the scene to provide assistance to the affected residents.
No citizens were injured, but one firefighter was evaluated for a minor hip injury, according to the Fire Department.
Officials planned to utilize arson and search dogs at the scene as a routine procedure.
The cause of the fire was under investigation.