This is an archived article and the information in the article may be outdated. Please look at the time stamp on the story to see when it was last updated.
In a letter thanking law enforcement officers after a shooting left one student injured in a Palmdale high school on Friday, an educator described how his school, less than 13 miles away, faced the ordeal.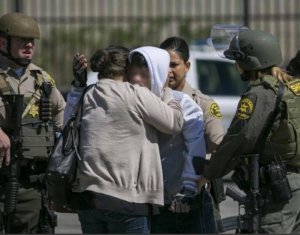 Chris Andrews, listed as vice principal on Eastside High School's website, posted the message to Instagram the day a 14-year-old allegedly used a rifle to shoot a 15-year-old student in the arm at Highland High School.
An off-duty Los Angeles police officer, whom the suspect's parents knew and alerted about their son, apprehended the boy after he fled the campus, according to the L.A. County Sheriff's Department.
The victim was expected to recover, and no other injuries were reported.
Addressing all law enforcement officers "from a grateful heart," Andrews referred to the shooting as the worst thing his school district could imagine.
Highland High School and Eastside High School in Lancaster are both part of the Antelope Valley Union High School District.
"We train for this – two or three times a year," the post said. "We discuss the horrific possibilities and choices with our school community. We agonize over details and argue over strategies… The thing is, all of our preparation revolves around getting our people under cover and as safe as possible while we wait for you."
As Eastside High staffers scoured the news and authorities responded to the shooting about 20 minutes away, the Lancaster school's resource officer strapped on an extra vest and positioned himself in front of the campus, according to the message.
"One lone man determined that no one would get by him to harm our kids," the post said. "I listened to his radio as hundreds of his brothers and sisters ran to the scene, some from 50 miles away…  I was in awe of the courage it took to stand his post alone, while he listened to the dangers he could not help defeat. So, inadequate as it is, I thank you. "
The full message, as reposted on Facebook by the  Sheriff's Department's Lancaster station, can be read below.