This is an archived article and the information in the article may be outdated. Please look at the time stamp on the story to see when it was last updated.
At a surprise birthday celebration in Huntington Beach on Thursday, 8-year-old Adalyn "Addy" Aguilar was reunited with Justin Schrey, the firefighter who helped deliver her.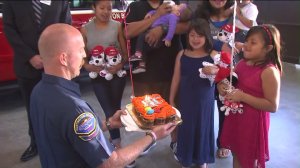 Eight years ago, Alma Cisneros told her brother she thought she needed to go the hospital, but quickly changed her mind.
"Nope, we need to call 911," Cisneros remembers saying.
That's when Schrey, a rookie firefighter at the time, showed up and helped deliver Addy.
Growing up, Addy always heard the stories of her birth and one day told her parents, "I want to meet him in person."
Only knowing the firefighter's first name, Addy's mother and father turned to social media to track him down.
Not only was Schrey happy to meet Addy, the entire Huntington Beach Fire Department decided to hold a birthday celebration for her at the fire department.
Firefighters sang Happy Birthday as Schrey brought out the cake.
"I think it's just something that her and I will always probably have … To share that connection," Schrey said.
Addy said this was her favorite birthday, but not because she got to explore a fire truck or shoot a real fire hose.
"Because I got to come here and meet Justin," she said.