This is an archived article and the information in the article may be outdated. Please look at the time stamp on the story to see when it was last updated.
More than 3,000 people attended at a vigil at El Monte High School Monday night for Adrian Castro, whose life ended after a charter bus carrying dozens of students collided with a big rig while headed to Humboldt State University last week.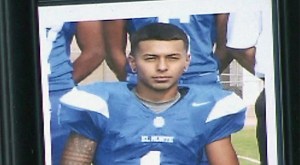 Five students, three chaperones and both drivers were killed when the charter bus was struck head-on by a FedEx truck on the 5 Freeway in Orland last Thursday.
On Monday, family members, friends and classmates gathered at the vigil to remember the 19-year-old who was described as a happy person, a gifted athlete and a good friend.
One of the students who survived the deadly collision told the teenager's family how he spent his last moments.
"He passed away being a good guy," said Kelvin Esteves, who sat in front of Castro on the bus. "He plugged in his phone for us to listen to his music."
Family members said Castro was looking forward to college and to becoming the first one in his family to get a degree.
"That was my right hand man," his father Raul Castro said. "He went doing what he wanted to do."
"He wanted to go into Kinesiology," said Diana Lyles, his aunt. "He was really looking forward to visiting the campus."
Over and over again, Castro was remembered as an example of a life well lived and a future cut short.
"I learned from that day. Life ends in a minute. Life ends in a second," Esteves said through tears. "Thank God I'm still here for my mom. But I see Adrian's mom and dad. And I'm sorry. Just know your son died doing a good for us."
Correction: An earlier version of this article incorrectly combined the actions taken by two students on the bus. The post has been updated.