This is an archived article and the information in the article may be outdated. Please look at the time stamp on the story to see when it was last updated.
Another powerful El Niño storm brought high surf warnings to parts of the Southern California coast Thursday, and even took out a KTLA camera that got too close to one wave.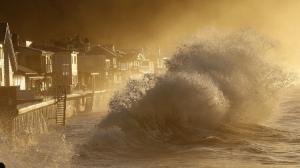 Described as "large and damaging surf" by the National Weather Service, waves between 15 and 20 feet, with some sets as high as 25 feet were expected to hit the Central coast Thursday; Ventura County will see 10 to 15 foot waves with sets up to 18 feet; and Santa Barbara's south coast will see surf up to 8 to 12 feet.
For Los Angeles County, waves were likely to reach 10 to 14 feet, with sets up to 16 feet before the surf begins to subside on Friday.
In the meantime, high surf warnings were in effect through late Thursday for all coastal areas from San Luis Obispo County to Los Angeles County, with high surf advisories likely to still be needed on Friday.
The powerful surf was likely to cause damage to some coastal structures and cause minor coastal flooding, according to the weather service.
Officials warned the public to keep a safe distance from the surf, which could be seen crashing onto the Ventura Promenade Thursday morning.
Reporter Lynette Romero and her cameraman were setting up for a live shot on the promenade when a large wave came crashing over the rail.
The camera recorded the approaching wave before going dark as the water splashed down.
A bystander also caught the wave crashing into our camera on cellphone video.
Area residents were concerned about the Ventura Pier, which sustained damage amid heavy surf on Dec. 11.
"This is a really powerful northwest storm … the waves are just pounding," said resident Rich Haggerty, who talked about the weakened pier.
"How much can it take. One set after another constantly after it's been weakened … hopefully it stays up," Haggerty said.
Several days of rain in Southern California prompted public health officials to  urge beachgoers to stay out of the water and declare an ocean-water-quality rain advisory for all Los Angeles County beaches.
The advisories are issued when there is significant rainfall because contaminants within the runoff often enters the ocean, increasing bacteria levels.
The advisory was scheduled to be in effect until at least 8:30 a.m. Friday.
Dangerous rip currents and long-shore currents are also expected to be common in all areas along the coast, according to the weather service, which warned people to stay off of rocks and jetties.
"The large waves and strong currents will create a risk of ocean drowning," the weather service stated.
Inexperienced swimmers and surfers were asked to stay out of the water.