This is an archived article and the information in the article may be outdated. Please look at the time stamp on the story to see when it was last updated.
A man wanted for threatening people with an ax was shot dead by police after a chase ended in Westchester Wednesday afternoon, according to an El Segundo police captain.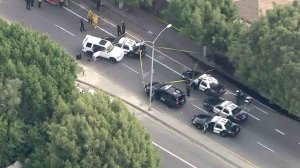 No officers were hurt, and it's still not clear exactly what led police to open fire.
The incident began about 12:25 p.m., when police received multiple calls reporting a man approaching people on the street and threatening them with an ax or machete, Capt. Brian Evanski of the El Segundo Police Department said.
"He had the hatchet in his hand and he was waiving it, pointing it towards my neighbor," said witness Ron Parsons. "He was walking toward my neighbor and said, 'Don't ever effing follow me.'"
Parsons described the man as "very, very agitated," saying his neighbor did not know the man. Parsons called 911.
Officers went to the scene, a residential area near Imperial Avenue and McCarthy Court in El Segundo, and found the man they suspected of the threats. A pursuit began, Evanski said.
The chase ended about 3 miles away, on the north side of Los Angeles International Airport, on busy Manchester Avenue near Kentwood Avenue.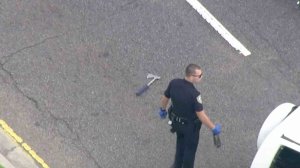 There, the driver's vehicle came to a halt somehow and he got out of the vehicle, Evanski said. Officers opened fire, and the man was declared dead on scene, the captain said.
Video obtained by celebrity news website TMZ showed the man getting out of the driver's side window and appearing to try to get onto the hood of the SUV before being struck by gunfire.
Evanski said he didn't know if a weapon had been recovered, but aerial video from Sky showed an ax or hatchet lay on the roadway near where a body lay covered with a sheet. A white Isuzu Trooper SUV appeared to have crashed into or stopped next to a patrol vehicle at the end of the pursuit.
Evanski said he didn't know how many officers were involved or how many rounds were fired. He said he hadn't spoken with the officers involved.
Separately, El Segundo police Lt. Leyman told KTLA officers tried to intervene but the man was shot dead.
Multiple witnesses said they heard rapid gunfire.
A woman who had just concluded a shopping trip said she was pulling out of a nearby parking lot when she saw many police cars with lights on, and officers outside their vehicles. She turned her head and then heard gunfire.
"There was a lot. It was about eight to 10. It was rapid, really rapid," witness Patricia Gutierrez said. "He should have just gave up. He lost his life over it."
The Los Angeles County Sheriff's Department will take over the investigation, Evanski said. Homicide detectives were en route, the Sheriff's Department said.
Los Angeles police and airport police also responded.