This is an archived article and the information in the article may be outdated. Please look at the time stamp on the story to see when it was last updated.
Police were searching for a hit-and-run driver who struck a couple on the sidewalk, leaving a man dead and a woman hospitalized Tuesday morning.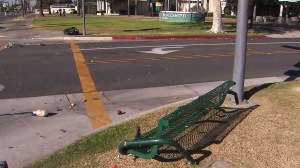 The husband and wife were standing at a bus stop in front of the Southwest Senior Center in 2200 block of West McFadden Avenue when they were hit by a vehicle, according to a news release from the Santa Ana Police Department.
An SUV — described as a dark Nissan Pathfinder from between 1996 and 1999 — was traveling eastbound on McFadden when it veered into opposing lanes and onto the sidewalk, hitting the bus bench and the two victims on the northwest corner.
The driver then pulled into a parking lot, made a U-turn and stopped near the victims before driving away without helping or identifying himself to anyone, police Cpl. Anthony Bertagna said. The news release said the vehicle sped away westbound on McFadden.
Both victims were transported to UC Irvine Medical Center, where the 72-year-old man later died, the police spokesman said. He identified the victim as Dien Van Le.
"I seriously doubt that they could have gotten up and gotten out of the way because they wouldn't have seen it coming," Bertagna said.
Le's wife, 68, was in serious but stable condition. Her name was not released.
He initially described the car as an older-model, box-type Jeep Cherokee, but authorities later said they believed the couple was struck by a dark-colored Nissan SUV. Debris left in the roadway help pinpoint the model years.
Police did not have any information about the driver.
Bertagna initially gave a different block number for the location of the crash, and said the victims had been sitting at the bus stop when they were struck.
KTLA's Jennifer Thang and Melissa Pamer contributed to this story.