This is an archived article and the information in the article may be outdated. Please look at the time stamp on the story to see when it was last updated.
An elderly homeowner fought back after a pair of suspected burglars allegedly broke into his home and assaulted him, leaving one of the attackers dead, Long Beach police said on Thursday.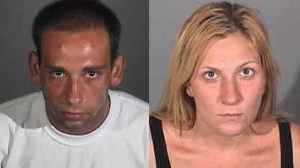 When officers responded to a call of shots fired near the 3900 block of Country Club Drive (map) in the Bixby Knolls neighborhood on Tuesday night, they discovered a woman had been fatally shot, according to the Long Beach Police Department.
The homeowner, identified by neighbors as Tom Greer, told police that when he arrived at the house that night, he was assaulted by a man and a woman who were allegedly inside burglarizing his home, according to police.
"He comes home, he parks his car, he enters the residence, at which time he is confronted by a male and a female suspect," Long Beach police Chief Jim McDonnell said at a news conference on Thursday. "They jump on him, as he describes, and they beat him with their fists… and then throw him–body slam him, basically–onto the floor.
"He sustains a broken collar bone, cuts and bruises, as a result of that beating. They leave him… he's able to get up, and at that point he goes into another room, retrieves a gun and comes back and confronts them once again," McDonnell said.
Greer then opened fire inside his home and again outside as both suspects fled the scene with items taken from the home, according to a news release from the department. The female was struck by gunfire and died at the scene.
She was later identified as 28-year-old Andrea Miller of Long Beach, the release stated. The Los Angeles County coroner's office was working to determine whether Miller was pregnant, police added.
The male suspect, identified as 26-year-old Gus Adams of Long Beach, was later arrested and was being held on charges of murder and residential robbery, according to the release.
Adams was being held on more than $1 million bail.
Greer told police his home had been burglarized before, and he believed the two suspects were responsible for the prior incidents.
Both Adams and Miller had criminal histories, police said.
An investigation into the incident continued and anyone with information was asked to call Long Beach Police homicide detectives Mark McGuire and Greg Krabbe at 562-570-7244.