This is an archived article and the information in the article may be outdated. Please look at the time stamp on the story to see when it was last updated.
An elderly man was shot by police officers in Tarzana on Friday after he allegedly threatened to kill himself and his wife, according to police.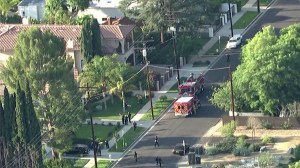 Officers were called to a home in the 5200 block of Mecca Avenue (map) at 5:10 p.m., according to Los Angeles Police Department Detective Gus Villanueva.
A neighbor who lived across the street said he heard the couple arguing as officers arrived.
"He came outside with shotgun, cops had guns drawn and he said, 'are you really gonna shoot an old man like me,'" neighbor Jonathan Parzivand said.  "He was grabbing his shotgun and cocking it back and the cops shot him," Parzivand said.
The unidentified man was rushed to a hospital by ambulance. His condition was not known.
Multiple fire trucks and ambulance were on scene, aerial video showed. A firearm remained in the grass, video showed.
Parts of Ventura Boulevard and Reseda Bouelvard were blocked off.
Initial reports indicated the man had a knife, but that was later revised to be a shotgun, Villanueva said.