This is an archived article and the information in the article may be outdated. Please look at the time stamp on the story to see when it was last updated.
RESEDA, Calif. (KTLA) — Police were searching for the driver of a Nissan 300ZX that struck and killed an 83-year-old man who was using a walker to cross a street in Reseda Monday morning.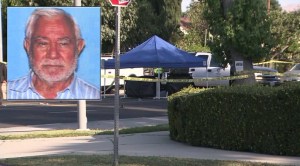 The deadly crash happened just after 6 a.m. at the intersection of White Oak Avenue and Valerio Street, according to authorities.
The victim, identified as Asghar Abbassi, was in a marked crosswalk when he was struck by the speeding car, police said.
"Because of the impact he was launched across the street and unfortunately he lost his life here at the scene," police Detective Bill Bustos said.
The car was traveling northbound on White Oak Avenue and left no skid marks, indicating to authorities that the driver never slowed down.
Police believed the vehicle, possibly a 2000 to 2006 black Nissan 300ZX, had extensive front and rear end damage.
The deadly crash was the third hit-and-run in the San Fernando Valley in the past 11 days.
Anyone with information was asked to call authorities at 1-800-222-8477.