This is an archived article and the information in the article may be outdated. Please look at the time stamp on the story to see when it was last updated.
A man and woman described by police as "elderly" are dead following a shooting in Huntington Beach Friday, in an incident authorities said they were investigating as a suspected murder-suicide.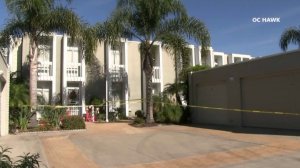 Shortly after 8 a.m., officers responded to a call of a possible shooting in the 4100 block of Aladdin Drive, according to a news release from the Huntington Beach Police Department.
When they arrived, officers discovered the man and woman with gunshot wounds.
The man was pronounced dead at the scene; the woman was taken to a local hospital where she died, authorities said.
Police confirmed that both the man and woman lived on the street where the shooting took place. Authorities have not formally identified them, nor have they released information on the relationship between the two.
Friends, however, identified the man to KTLA as 78-year-old Michael Busenburg and the woman as 62-year-old Liz Noriega. The two were neighbors according to Clara Lincoln, who identified herself as a long-time friend of Busenburg.
Lincoln said he was in a great deal of pain and on medication following a recent bowel surgery, and thus his mood and quality of life were changing as his health failed.
"I'm afraid that I saw a change in Michael two days ago and I did not see that this type of a violent end would come, but I was concerned about the changes in his behavior and that they were escalating," she said.
According to the Orange County Register, authorities found a weapon at the scene.
Investigators were not looking for anyone else involved in the shooting, Huntington Beach police Lt. Tim Martin told KTLA.
Anyone with information is asked to contact police at 714-536-5951.
KTLA's Jennifer Thang and Tracy Bloom contributed to this story.