This is an archived article and the information in the article may be outdated. Please look at the time stamp on the story to see when it was last updated.
Four elderly residents and their caregivers were robbed during a home-invasion robbery in Fullerton late Thursday, police said.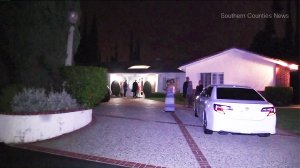 The intruders, described as two men and a woman, forced their way through the front door of a home in the 100 block of West Las Palmas Drive just after 11 p.m., Fullerton Police Department Lt. Mike Chlebowski said.
Daniella Martinez, the daughter of one of the caregivers, said the robbers knocked on the door and then threw her mother to the ground and pointed a gun at her when she opened it.
"They got the other caregiver and threw her in the closet and closed the door," Martinez said.
The intruders then went through the home taking valuables, including Martinez's mother's purse, phone and car, she said.
Police are searching for the stolen car, described as a blue 2002 Volkswagen Jetta.
A person who did not want to be identified, but entered the home Friday morning, said all of the elderly residents were in their early 90's and included one man and three women.
Police did not provide a description of the intruders.