This is an archived article and the information in the article may be outdated. Please look at the time stamp on the story to see when it was last updated.
A couple in Thousand Oaks has given up fighting an eviction from the home they've lived in for nearly six decades after their grandson allegedly mortgaged it away and sold it without their knowledge.
Helen and Hank Kawecki are scheduled leave their home this Saturday.
They will move in to a mobile home in a senior living community in nearby Newbury Park, thanks to the generosity of the community and neighbors who helped raise nearly $125,000 on their behalf.
The Kaweckis, both in their late 80s,  have been facing eviction for months after they signed over the deed to the home to their grandson, who allegedly mortgaged the property to the maximum with three loans and defaulted on all of them, the couple said.
The relative — identified by by the Ventura County Star as Chadd Moore —  also allegedly sold the house without their knowledge.
The relative — who hasn't been named — persuaded his grandparents to sign the deed over, promising he would take care of them financially, according to a GoFundMe page.
"It's hard, very hard, to leave this. But we don't have any choice. And I didn't ever think my grandson would ever do this to me. Ever," Helen Kawecki told KTLA on Wednesday.
Doug and Linda Emerson, who live across the street from the Kaweckis, created the fundraising page. They first learned of the alleged fraud after a real estate agent introduced her clients to them as the soon-to-be residents of the Kaweckis' house, The Star reported back in July.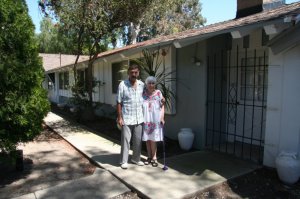 That prompted Doug Emerson — who knew the couple planned to live in their house for the rest of their lives — to investigate online.
After learning the loans against the home were in default, and knowing that the couple had no money and nowhere else to go, the Emersons helped the couple hire a lawyer to fight back.
The attorney tried to halt the sale,  but "the lenders went through the foreclosure process and that could not be stopped," Doug Emerson wrote on the fundraising page.
Although they were given a temporary reprieve, the couple has been evicted from their home and has until Sept. 27 to move out, according to an update on the page.
The Kaweckis are terrified of what the future holds, but are grateful they have some place to go.
"Not used to this," Hank Kawecki told KTLA through tears. "I don't know what to say anymore. It's a hard thing."
Local law enforcement and the Ventura County District Attorney's Office have investigated the case, according to the GoFund Me page. It was not immediately known whether the grandson would face any charges.
The Kaweckis have said they are sharing their story in the hopes that it serves as a warning to other families.