This is an archived article and the information in the article may be outdated. Please look at the time stamp on the story to see when it was last updated.
Search and rescue personnel from the Los Angeles County Fire Department prepared Wednesday to head to Mexico to assist in the aftermath of a deadly 7.1 magnitude earthquake.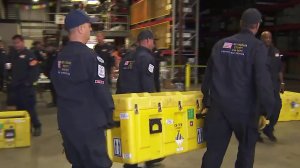 The crew is part of an elite disaster response team known internationally as USA-2, which is trained to conduct around-the-clock search and rescue operations for both domestic and international disasters, according to a news release from the Los Angeles County Fire Department.
Tuesday's quake turned dozens of buildings in central Mexico into dust and debris, killing at least 217 people, CNN reported.
Twenty-two bodies were found in the debris of the Enrique Rebsamen school in Mexico City's Coapa district, Mexico's President Enrique Peña Nieto said Tuesday.
However, video released Wednesday showed several children had been found alive and rescued from the rubble. Efforts like those are what USA-2 hopes to be part of.
"We're ready. If we get the order and they need us, we'll be there," Inspector Joey Marron said.
Marron said the team had been deployed by early afternoon Wednesday.
The U.S. Agency for International Development (USAID) has deployed urban search and rescue teams, including USA-2, more than a dozen times since 1988. Most recently, the crews were sent to Nepal for the 2015 earthquake, and Japan to assist in the aftermath of an earthquake and tsunami in 2011.
A USAID spokesman said the agency's Disaster Assistance Response Team includes more than 60 members and five canines from the L.A. County Fire Department. The team was deployed "following a formal request for assistance" from Mexico's government, USAID said in a news release.
KTLA's Melissa Pamer contributed to this article.
.@POTUS sends @USAID elite disaster team in response to #MexicoEarthquake to help with humanitarian relief. Team includes @LACo_FD members. pic.twitter.com/rNieYd5Waa

— Jonathan Rath Hoffman (@ChiefPentSpox) September 21, 2017