This is an archived article and the information in the article may be outdated. Please look at the time stamp on the story to see when it was last updated.
A father and his two young children who were killed in a crash on the 91 Freeway in Artesia over the weekend, were remembered at an emotional vigil in Signal Hill Wednesday evening.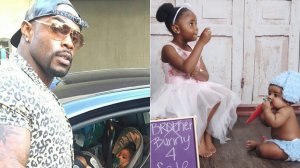 Lavell Mann, 33, his 3-year-old daughter Logan, and 9-month old son Legend, all died early Saturday when their Jeep hit the back of a gas tanker truck, hit the freeway's center divider and flipped over, according to the California Highway Patrol.
Mourners gathered outside No Limit Sports Academy after 6:30 p.m. to remember Mann, a popular fitness trainer in the community, and his two kids.
Hundreds attended the candlelight vigil, including Mann's wife Niya.
"Everyday is a struggle, I mean, I have to take it second by second, not even hour by hour or day by day," Niya Mann told KTLA.
She said she was being carried through the tragedy by her faith, along with family members and friends.
"It's just tough knowing that I don't have my husband to talk to about my kids, or my kids to talk to about their father," she said. "I have no one."
The Long Beach man was remembered at the memorial as trustworthy, loyal, loved and motivational by those who knew him.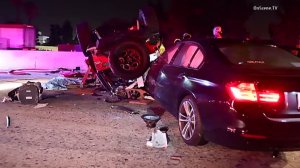 "I want you to remember about my son that he was a God-fearing man, first off, and that he was a caring person, and to know Lavell is to love Lavell," said Michael Mann, Lavell's father, who was also in attendance.
Mann's family also expressed gratitude for the outpouring of love, prayers and support they have received in the wake of the tragedy.
A GoFundMe page established to help the family has raised more than $41,000 as of Thursday morning.