This is an archived article and the information in the article may be outdated. Please look at the time stamp on the story to see when it was last updated.
A candlelight vigil was held Wednesday night at College of the Canyons for two Valencia teenagers who died when their car was caught up in a violent chain-reaction crash triggered by alleged street racing on the 5 Freeway in Commerce on Saturday.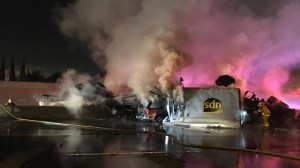 Brian Lewandowski, 18, the son of a Los Angeles County Sheriff's Department homicide lieutenant, and Michelle Littlefield, 19, who was slated to attend Cal Poly San Luis Obispo in the fall, were on their way home with two friends when the crash occurred.
Investigators with the California Highway Patrol said one of two drivers involved in an alleged street race slammed into a UPS truck, causing the big rig to flip over the center divider into oncoming traffic near Washington Boulevard, in turn triggering a multivehicle crash.
The top of the Nissan carrying the Valencia teenagers was sheered off in the crash. Two other young men riding in the Nissan survived but remained hospitalized in critical condition. On GoFundMe pages, they were identified as Anthony "Tony" Miramontes and Alfonso Morillo.
At the vigil, a friend asked for prayers for the two survivors.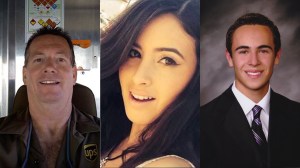 All four of them worked at Six Flags Magic Mountain, and many of those at the vigil were coworkers.
"I want my friends back, but I know I can't. But we can have Tony and Alfonso," one young woman said. "Because we can't lose four. It's too hard."
The group was coming back from Disneyland when the crash occurred.
"My daughter was the jewel of my life, and for me to even say that 'was' part is unbelievable," said Michelle's father William Littlefield at the vigil.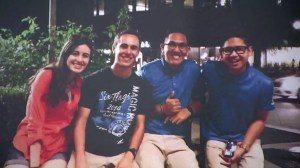 UPS truck driver, Scott Treadway, 52, also was killed.
One of the alleged street racers, Dealio Lockhart, was charged Tuesday with three counts of second-degree murder in the crash. He was being held on $6.2 million bail and was due back in court on April 6.
The second driver was still being sought.
Anyone with information has been asked to contact Officer Fonseca or Officer Flores of the East Los Angeles CHP Office at 323-980-4600.