This is an archived article and the information in the article may be outdated. Please look at the time stamp on the story to see when it was last updated.
An employee at a cellphone store in Santa Ana chased an alleged robber out of the shop and nearly got run over trying to pull the man out of the fleeing getaway car.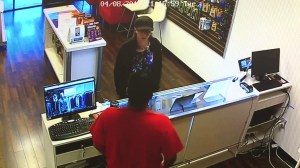 The robbery and bizarre getaway, which occurred on Aug. 4, were both captured on surveillance cameras positioned inside and outside a Cell Spot store on South Bristol Street, according to the Santa Ana Police Department.
The name of the store was initially reported as Cell Stop by police.
Inside the store, the clerk can be seen on the surveillance video showing the man a cellphone.
The phone was worth about $200, according to authorities.
Then suddenly, the alleged robber bolts for the door with the cellphone.
As the man runs to a waiting getaway car in the parking lot, the store employee can be seen chasing after him.
The alleged robber tries to jump into the vehicle through on an open passenger-side window as the car begins to pull away.
His legs can be seen dangling from the window.
Then, as another vehicle momentarily blocks the getaway car, the store employee can be seen trying to pull the man back out of the car.
In the end, the getaway car managed to get around the other vehicle and nearly ran over the store employee as it sped away.
"Now these subjects are looking at robbery, assault with a deadly weapon, hit and run … If he's willings to  ram into innocent victims, I'm sure they would have been willing to run over a pedestrian. Theres a lot of things that could go wrong with things like this," Santa Ana Police Department Cpl. Anthony Bertagna said.
The alleged robber was wearing a black hat, black jacket and black pants, with a distinctive spotted shirt and multi-colored shoes.
The driver was only described as having long, curly red hair.