This is an archived article and the information in the article may be outdated. Please look at the time stamp on the story to see when it was last updated.
A doughnut shop employee in Lancaster stopped an apparent burglary when he shot and killed a tire iron-wielding intruder who was one of two men who broke a window to get inside the shop early Friday morning, authorities said.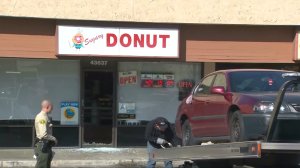 The incident occurred about 3 a.m. at the Sugary Donut shop in the 43600 block of 15th Street West, Los Angeles County Sheriff's Department homicide Lt. John Corina said.
Two people pulled up to the doughnut shop, which was still closed at the time, and got something out of their trunk, Corina said.
"They smashed the front window and went inside," Corina said.
What the two likely didn't realize was that an employee was inside the shop, Corina said.
One of the intruders grabbed the cash register while the other forced his way past the front counter and approached the employee with a tire iron, the Sheriff's Department said in a news release Friday afternoon.
"The employee ends up shooting one of the suspects, killing him," Corina said.
The intruder collapsed inside the store, while the other man ran from the scene, leaving the pair's vehicle parked in front of the shop.
The intruder who was killed was identified only as a black man possibly in his 20s. No description was available of the man who ran away other than his gender.
The tire iron was recovered in the store, the sheriff's news release said.
The owner of the doughnut shop said she and the male employee were still trying to grasp what happened.
"He is very shook up and so am I. … I'm just glad that he's OK," she said.
Homicide detectives are investigating.
Anyone with information about the incident was asked to call the Sheriff's Department at 323-890-5500. Those who prefer to remain anonymous can call Crime Stoppers at 800-222-8477.
Correction: An earlier version of this article, as well as an on-air graphic, spelled John Corina's last name incorrectly. The story has been updated.