This is an archived article and the information in the article may be outdated. Please look at the time stamp on the story to see when it was last updated.
Federal environmental officers were sickened by toxic vapors as they toured a south Los Angeles urban oil field whose emissions are blamed by neighbors for a variety of ailments, an EPA official said Friday.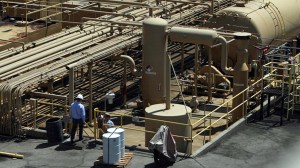 Jared Blumenfeld, U.S. Environmental Protection Agency regional administrator for the Pacific Southwest, was among those stricken by the fumes during the recent tour of the Allenco Energy Co. site in University Park, about a half-mile north of USC.
"I've been to oil and gas production facilities throughout the region, but I've never had an experience like that before," Bumenfeld said.
"We suffered sore throats, coughing and severe headaches that lingered for hours."
Click here to read the full story on latimes.com.