This is an archived article and the information in the article may be outdated. Please look at the time stamp on the story to see when it was last updated.
WEST HILLS, Calif. (KTLA) — A man wanted in the stabbing death of his estranged wife in West Hills was taken into custody early Monday morning, police said.
Michael Rodney Kane, 46, was arrested at a motel in Joshua Tree at 12:05 a.m., according to Los Angeles police.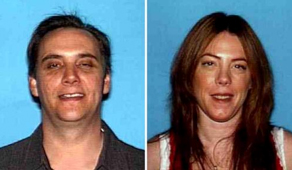 Kane's car was found abandoned on Sunday behind a community center in a rural community in San Bernardino County, police said.
The LAPD was alerted that he might go to a relative's house in Yucca Valley.
They served a search warrant at the home on Sunday night, but did not find the suspect.
Their investigation led them to the motel in Joshua Tree, where Kane was apprehended without incident.
Kane had "multiple injuries," according to police.
It was unclear if they were sustained during the alleged homicide or after.
He was taken to a Desert High Medical Center for treatment and then transported to the LAPD's Topanga Station.
He was booked on suspicion of first-degree murder at the Van Nuys jail.
Kane had been on the run since Saturday morning, when he allegedly stabbed his estranged wife, 43-year-old Michelle Ann Kane, to death.
It happened around 7:30 a.m. at a home in the 7100 block of Deveron Ridge Road in West Hills, where Michelle was staying with a friend.
Michael allegedly forced his way into the house, then chased Michelle down the street and stabbed her multiple times. She died at the scene.
The couple had been married for 10 years, but were going through a bitter divorce, according to investigators.
They apparently had a history of domestic violence, authorities said. On Friday, Michelle had reportedly told police that Michael had violated a restraining order.
The couple's two young children were staying with their mother at the friend's house, but they were not hurt. They were safe with relatives, police said.
Michael is a veteran teacher with Los Angeles Unified School District. He last taught at Nestle Avenue Charter School in Tarzana since 2008.
Anyone with information was asked to call Topanga Area Det. Dave Petique at (818) 756-4869 or Crime Stoppers at 1 800 222-TIPS (8477).