This is an archived article and the information in the article may be outdated. Please look at the time stamp on the story to see when it was last updated.
A wildfire burning near Rancho Cucamonga was almost fully contained Sunday morning, according to officials.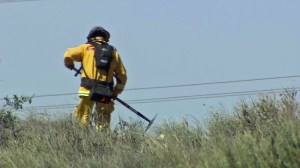 Fire crews were mopping up after the Etiwanda Fire, which burned 2,190 acres and was 94 percent contained as of 8 a.m., a news release from the U.S. Forest Service stated.
Authorities did not expect the size of the fire to grow, according to the release.
The fire started on Wednesday morning in a remote canyon above Rancho Cucamonga amid a spring heat wave. Fueled by gusty winds, it spread through the North Etiwanda Preserve and into the forest.
By Sunday, the blaze was mostly confined to heat patches in the mountain foothills, the release stated. Crews from the San Bernardino National Forest and Cal Fire were mopping up the remaining heat patches, while also restoring areas affected by dozer lines.
Firefighters were aided by milder weather conditions, which included lower temperatures and lighter winds with gusts of up to 15 mph, according to the release. Humidity was at 10 percent and expected to increase over the next few days.
Nearly 600 fire and law personnel were still working on the Etiwanda Fire as of Sunday morning, down from 800 the previous day, according to the multiagency InciWeb page.
Three firefighters sustained minor injuries battling the blaze. the InciWeb page stated. One structure was damaged.
It was still not known how the fire began, and authorities were continuing their investigation into its cause.
The North Etiwanda Preserve remained closed to visitors as result of the fire, according to the InciWeb page.