This is an archived article and the information in the article may be outdated. Please look at the time stamp on the story to see when it was last updated.
An unattended cooking fire caused the so-called Highway Fire that has burned 1,020 acres near the Prado Dam in the Chino Hills area, officials said Sunday.
Hours after evacuation orders were lifted and a smoke advisory went into effect, Cal Fire's Riverside division said the blaze was 35 percent contained.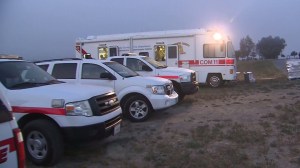 The fire was reported about 6:12 p.m. Saturday near the interchange of the 71 and 91 freeways (map), officials said.
The burned area held at 300 acres overnight with 15 percent containment, and residents evacuated from some 200 homes in nearby Corona were allowed to return home Sunday morning.
By 5:30 p.m. Sunday, 1,020 acres had burned and 35 percent of the blaze was contained, the Riverside County Fire Department stated in an incident fact sheet.
"This is an example of what the drought has done to these fuel conditions. Normally, this wouldn't burn in this type of area," said Capt. Mike Mohler of Cal Fire.
A smoke advisory was in effect Sunday, warning that onshore winds were expected to push the smoke toward the central San Bernardino Mountains, according to the South Coat Air Quality Management District.
Localized areas could reach the "Unhealthy for Sensitive Groups" level, or higher, the agency warned. Smoke was expected to impact the southwest and northwest San Bernardino valley, portions of central San Bernardino, and the Norco and Corona areas.
Aerial photos of the #HighwayFire from CAL FIRE Air Attack 310. pic.twitter.com/gaabmf2GTI

— CAL FIRE Riverside (@CALFIRERRU) April 19, 2015
People in those areas were advised to avoid vigorous outdoor and indoor activities, not use wood-burning appliances or fireplaces, run air conditioners, keep windows and doors closed; and people with heart disease, older adults and children were advised to remain indoors.
Weather had helped the firefight overnight, Mohler said.
"Humidity and the lack of wind overnight really helped out the fire crews," he said. "We're going to hit very hard this morning with aircraft, a lot of aerial recourses, additional ground resources."
But despite weather conditions that included calm winds, 93 percent humidity and cool weather on Sunday, according to the National Weather Service, firefighters said terrain remained an issue.
"The access is very difficult for firefighters, but what we have to remember is these are drought-stricken fuels, this is a river bed, again, difficult access, and thick vegetation. It's a difficult firefight," Mohler said.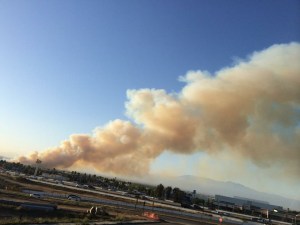 No injuries were reported as of Sunday evening.
County and city firefighters and sheriff's department officials worked with Cal Fire's San Bernardino, Riverside and San Diego divisions; as well as the Corona and Pechanga fire departments, Chino Valley Independent Fire District and Orange County Fire Authority.
More than 800 firefighters helped battle the blaze, Mohler said.
More video: