This is an archived article and the information in the article may be outdated. Please look at the time stamp on the story to see when it was last updated.
A gas leak prompted the evacuation of 50 to 60 homes in East Los Angeles for more than five hours Monday, authorities said.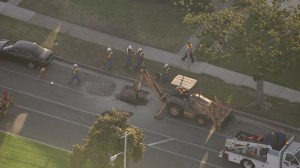 The evacuation, which affected about 80 to 100 people, was announced about 2:45 p.m. after workers punctured a gas line in the 300 block of South Gerhart Avenue, according to the Los Angeles County Sheriff's Department.
County fire crews were on scene, and the Gas Company estimated the leak would be repaired by about 7:45 p.m.
The sheriff's department said just after 9 p.m. that the incident was resolved.
Three blocks of South Gerhart Avenue were ordered evacuated between West Pomona and East Beverly boulevards (map), a residential area south of the 60 Freeway.
Evacuees were being transported via Metro buses to Garfield High School at 5101 E. Sixth St., the sheriff's department said.
The evacuation was lifted at about 8:15 p.m., according to a tweet from the Los Angeles County Fire Department's spokesman.
The Gas Co. issued a reminder to "call 811 before you dig," saying the service is free.
Check back for updates on this developing story.