This is an archived article and the information in the article may be outdated. Please look at the time stamp on the story to see when it was last updated.
Thousands of Orange County residents have been evacuated from their homes after a wind-whipped brush fire wreaked havoc and destroyed or damaged an unknown number of houses in Anaheim Hills Monday.
By 9 p.m.,  the fire had exploded in size to about 6,000 acres, or more than 9 square miles ,and officials said 24 structures were destroyed with at least another 5,000 threatened.
Just after 11 p.m., fire officials said the blaze was 5 percent contained and three helicopters would be making night drops to extinguish the flames along with 1,000 firefighters working the scene.
UPDATE (11 a.m.): 6,000 acres,5% contained,24 structures destroyed,numerous damaged,assessment update will be available in a.m. #CanyonFire2

— Anaheim Fire & Rescue (@AnaheimFire) October 10, 2017
The Canyon Fire 2 broke out about 9:54 a.m.  in the area of Coal Canyon on the 91 Freeway, near the same location where another fire started two weeks earlier. That earlier fire spread east toward homes in Corona.
Flames driven by Santa Ana winds rapidly moved west toward homes in Anaheim throughout the day.
Earlier, around 6 p.m., containment was still at 0 percent as the blaze spread into the neighboring city of Orange and toward Tustin.
About 3,000 to 4,000 residents have been impacted by the blaze, authorities said at a late afternoon news conference. About 5,000 homes are threatened in Anaheim, Tustin and Orange.
Later, fire officials said residents would not be able to return to their homes for the rest of the night.
"We empathize with you — we know it's difficult to be out of your home," Sgt. Daron Wyatt with the Anaheim police and fire departments said at a news conference later in the evening.
"But we need you out of your home," he said.
The rapid movement of the fire and difficulty containing it was due to winds that kept sweeping flames further, Wyatt said earlier in the day.
"We've got winds out here gusting up to 45 mph, and that's what driving this fire. It's been an extreme rate of spread," Wyatt said.
Crews are "at the mercy of the wind," he added.
Homes just southwest of the interchange of the 241 and 91 freeways appeared to be most threatened at first, aerial video from Sky5 showed. Fox Hollow Drive, Cedar Point Drive, Garden View Drive, Canyon Heights Drive were in the fire's path as blaze made its way up the hill from the 241.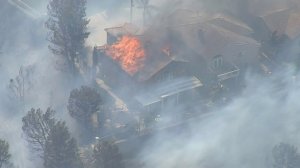 Two homes on Canyon Heights Drive were among the first to have caught fire, including one residence that was well-involved in flames after the fire raced up a nearby ridge, the aerial footage showed. A short time later, several homes in the neighborhood, some other streets, were also engulfed in flames.
Authorities said they were working to stop the spread but embers were being pushed by winds into homes, causing structure fires beyond of the head of the fire.
Related: Multiple Homes Destroyed by Canyon Fire 2
About 1,000 firefighters were on scene battling the fire, Anaheim Fire and Rescue tweeted later in the day.
#CanyonFire2 UPDATE: 6,000 acres, 24 structures destroyed with multiple damaged, 1,000 firefighters on the ground.

— Anaheim Fire & Rescue (@AnaheimFire) October 10, 2017
One firefighter suffered a minor injury battling the flames.
As crews fought the flames by ground and air, evacuation orders are in place for areas of Anaheim, Orange and Tustin. Wyatt urged residents to heed evacuation orders and warnings.
Related: List of Evacuation Areas, Shelters and Road Closures
"We want to be in advance of this. We want people to get out in advance of this, we don't want it to be last minute," he said.
Smoke from the blaze is creating low visibility in the area, and Orange County Fire Authority Capt. Larry Kurtz said people who are leaving need to be careful.
"Drive slow, take your time, make sure you know where you're going," Kurtz told KTLA. "It's going to be a long day for everybody."
Anaheim residents with questions can call 714-765-4333, while those in Orange are urged to dial 714-744-7555.
Monday's fire is essentially a sequel to a 2,662-acre blaze that started about 2 1/2 miles to the east, in the area of Coal Canyon at the edge of Anaheim and Corona, on Sept. 25. That blaze, the Canyon Fire, prompted evacuation orders affecting some 1,500 residents. Six structures were damaged.
Authorities said Canyon Fire 2 spread much more quickly because of Monday's winds.
A red flag warning was issued for the area of the fire and other parts of Southern California. The red flag warning was scheduled to expire Tuesday morning, the National Weather Service said.
It was not immediately known what sparked the fire, which is one of several major brush fires burning around the state.
In Northern California, several fast-moving wildfires north of Napa have consumed more than 57,000 acres by early evening. Some 1,500 structure have burned, and 10 people have been killed.
"Northern California is experiencing a much worse situation than we are," Beach said.
Gov. Jerry Brown declared a state of emergency for four Northern California counties and Orange County due to the fires.
Areas that are evacuated can be found in a searchable map released by Anaheim Fire and Rescue.
KTLA's Jennifer Thang, Melissa Pamer and Cindy Von Quednow contributed to this story. 
[protected-iframe id="38ec1064d8cdef650394418d3a799195-41641936-124039311″ info="https://www.facebook.com/plugins/video.php?href=https%3A%2F%2Fwww.facebook.com%2Fktla5%2Fvideos%2F10156004907899614%2F&show_text=0&width=560″ width="560″ height="315″ frameborder="0″ style="border:none;overflow:hidden" scrolling="no"]