This is an archived article and the information in the article may be outdated. Please look at the time stamp on the story to see when it was last updated.
The ex-boyfriend and business partner of a woman who died in the Aliso Viejo explosion this week has been arrested after a destructive device was found in his Long Beach home, but he has not been charged in connection with the explosion, the FBI said Thursday.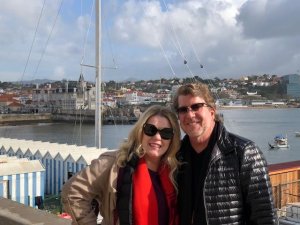 Stephen Beal, 59, was charged with being in possession of an unregistered destructive device, according to a criminal complaint filed Thursday. He appeared in U.S. District Court in Santa Ana on Thursday, but his detention hearing was continued until Monday.
Police on Wednesday searched Beal's Long Beach home on warrants involved in Ildiko Krajnyak's death. They told neighbors to keep a distance during their search in case of explosion.
Authorities found two improvised explosive devices, two handguns, a shotgun, chemical precursors and component parts of IEDs, according to the court filing.
Beal told the FBI he was a model rocket hobbyist but has not touched the rocket-making equipment and chemicals found in his home since 2004, according to the complaint. Beal also said he made fireworks, including mortars, but stopped after Sept. 11, 2001, because he "did not want to make the wrong impression," the complaint said.
Beal also told the FBI he saw reports about the explosion and said that he did not possess the material to create an explosion that large.
During his court hearing Thursday, Beal appeared to be acting very casual and unconcerned.  He was only handcuffed when he was first brought in.
He did not enter a plea but discussed a financial disclosure he submitted and was appointed an attorney.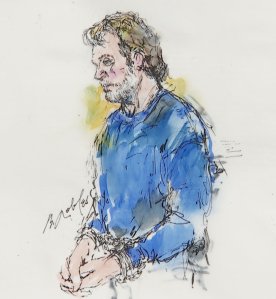 He would remain in custody until his hearing Monday, officials said.
The complaint charged Beal with one count of possession of unregistered destructive device. In a statement, the U.S. Attorney's Office repeated the FBI's comment that Beal has not been charged in connection with the explosion.
Krajnyak, 48, died on Tuesday when an explosion went off at her day spa in the first floor of a two-story medical office building at 11 Mareblu.
Officers who responded to the scene found human remains outside a broken window and at an adjacent parking lot, according to the complaint. Authorities later determined that the remains belonged to Krajnyak, the complaint said.
Two female customers, a mother and daughter, were also injured. The two were about to pay when one of them noticed three or four brown cardboard boxes on the floor next to the front counter, according to the complaint.
Krajnyak picked up and opened one of the boxes, which exploded, the customer told investigators.
A nine-volt battery, cellphone, loose wires and melted material that appeared to be duct tape were found at the spot where the device is believed to have been set off.
Beal was a co-owner of the day spa, a business partnership that was forged shortly after he and Krajnyak met online and began dating in June 2016. The spa was originally located in a different location before more recently moving to 11 Mareblu, court documents state.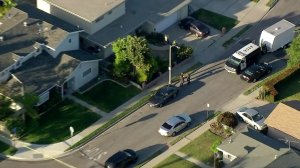 The two were in a relationship until this February or March, when arguments that arose over exclusivity and finances caused them to break up.
But Beal continued to pay the spa's $1,500 monthly rent and half of its operating costs, sometimes loaning Krajnyak money to cover part of her half, investigators said.
Beal has since entered a relationship with a new woman, who is the one who urged him to contact authorities when she saw news Tuesday of the fatal incident that occurred at the Mareblu building.
Authorities on Wednesday said the explosion appeared to be intentional and is being investigated as a crime. The motive behind the explosion remains unknown.
Investigators are not officially naming Beal as a suspect in the explosion, Orange County Sheriff's Department spokeswoman Carrie Braun said. Evidence was sent to the FBI's laboratory in Quantico, Virginia to be tested. Material from the crime scene and from Beal's home will be tested to see if they match, Braun said.
Krajnyak was married, but apparently estranged from her husband. Krajnyak is survived by one son, a student at the University of Washington, according to a GoFundMe page. She was described as a hardworking mother and beloved friend.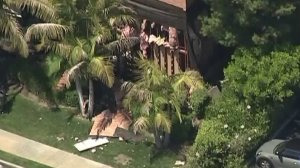 Beal listed Krajnyak as the chief executive officer of a skin care and retail company he established last year, paperwork filed with the California secretary of state last month showed, according to the Los Angeles Times. Beal is listed as the corporation's secretary and chief financial officer.
Neighbors told KTLA that Beal enjoyed building model rockets outside his home.
"He used to make rockets that are about as big as I am. He'd do it right here in the driveway by his garage, so he'd go out to the desert and fire them off," neighbor Mushroom Montoya said. "Police are gonna check everything out, and unfortunately he has a hobby that would have something that's explosive."
Beal was also married, but his wife, Christine, died about 10 years ago.
In a lawsuit he filed against insurance companies, Beal said Christine fell down a flight of stairs while carrying a table, and the table then landed on her abdomen. She visited multiple doctors after the incident and was eventually admitted to the hospital, where she died three weeks after the initial fall, the lawsuit states.
The insurance companies claimed preexisting conditions including pancreatitis were actually what led to her death, but the judge ruled in Beal's favor and awarded him more than $500,000.
KTLA's Erika Martin contributed to this report.