This is an archived article and the information in the article may be outdated. Please look at the time stamp on the story to see when it was last updated.
The 20-year-old Newport Beach man facing a murder charge in the fatal stabbing of former high school classmate Blaze Bernstein spoke openly on social media about his Catholic faith and conservative political views.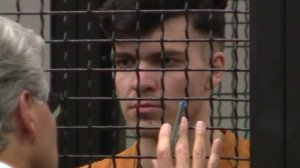 Samuel Lincoln Woodward wrote more than a year ago on his ASKfm page that if he were stranded on a tropical island, he'd want a Bible and a Colt .45 with him.
"Anything is possible through the Lord who strengthens me," he wrote.
He also expressed disdain for then-President Obama, calling him an "arrogant, hypocritical, spineless socialist," and for the song "Same Love," singer Macklemore's anthem in support of same-sex marriage.
Read the full story on LATimes.com.