This is an archived article and the information in the article may be outdated. Please look at the time stamp on the story to see when it was last updated.
Former Los Angeles Clippers player Rasual Butler had drugs and alcohol in his system when he and his wife were killed in a solo vehicle, high-speed crash in Studio City earlier this year, an autopsy report from the Los Angeles County coroner's office revealed Thursday.
The substances included alcohol, marijuana, methamphetamine and painkillers, according to the autopsy.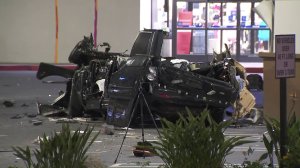 Toxicology tests indicated one sample showed a blood alcohol level of .118, well above the legal limit. An empty box of Don Julio tequila was found in the vehicle, behind the passenger seat, the report stated.
He died as a result of multiple traumatic injuries.
Butler, 38, was behind the wheel of a newer model Range Rover on January 31 when the out-of-control SUV jumped a curb, hit multiple parking meters, slammed into a concrete wall, flipped over and landed in a shopping center parking lot, the Los Angeles Police Department said at the time.
The violent crash happened shortly before 2:30 a.m. in the 11200 block of Ventura Boulevard.
Butler and his wife, singer Leah LaBelle, were pronounced dead at the scene.
Police said at the time that it appeared the SUV was going "well in excess" of the posted speed limit, with one LAPD official at the crash site estimating the Range Rover was traveling between 60 mph and 90 mph.
Butler and LaBelle resided in Studio City.
The Clippers released a statement in the wake of the couple's death.
"The L.A. Clippers are deeply saddened by the loss of Rasual Butler and his wife, Leah LaBelle," the statement read. "Rasual will long be remembered not only for his accomplishments on the court, but for his vibrant personality, positive outlook and the compassion he had for everyone around him."
In addition to the Clippers, Butler played for several NBA teams during his lengthy professional basketball career, including the Miami Heat, Indiana Pacers, Washington Wizards and San Antonio Spurs.
He last played in the league in 2016.
KTLA's Jennifer Thang and Meghan McMonigle contributed to this story.