This is an archived article and the information in the article may be outdated. Please look at the time stamp on the story to see when it was last updated.
Former Los Angeles Dodgers pitcher Esteban Loaiza was arrested in San Diego after 20 kilograms (44 pounds) of suspected cocaine was found at his home following a traffic stop, authorities said Monday.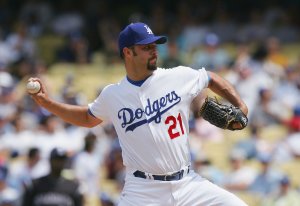 Loaiza, 46, was taken into custody last Friday as part of an ongoing narcotics investigation after he was seen driving a vehicle believed involved in the smuggling drugs, according to a news release from the San Diego County Sheriff's Department.
A traffic stop was conducted, and during the search, investigators found a compartment in the vehicle used to conceal contraband, the release stated.
Investigators then obtained a warrant to search Loaiza's Imperial Beach home where they discovered the suspected cocaine, which has an estimated value of $500,000.
He was booked on suspicion of possessing more than 20 kilograms of cocaine, possessing cocaine for sale and transporting cocaine.
The former Major League Baseball pitcher and two-time All-Star is being held on $200,000 and is scheduled to be arraigned Wednesday, according to San Diego television station KGET.
Loaiza, who last pitched in the majors in 2008, made over $40 million in his 13-year career. He made the roster for eight teams, including the Dodgers; his best season, however, came in 2003 when he was a member of the Chicago White Sox.
He also played for the New York Yankees, Oakland Athletic and Texas Rangers, among others.
Loaiza was married to famed singer Jenni Rivera, who died in a 2012 plane crash.
According to police records, Loaiza lives in Chula Vista.