This is an archived article and the information in the article may be outdated. Please look at the time stamp on the story to see when it was last updated.
Former Los Angeles County Sheriff Lee Baca remained defiant after his sentencing Friday morning, telling reporters outside the courthouse that he was in the right for actions he took in 2011 for which he will now serve a three-year prison term.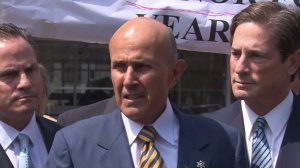 "There is right and wrong, that I'm clear with," said Baca, who chose not to make a statement to the judge at his sentencing hearing. "When I stand tall, I stand right with what I think is right."
Baca was convicted in March of obstruction of justice and conspiracy charges for the steps he and his subordinates took after they learned of an FBI investigation into corruption and abuses in the sheriff's department-run jails.
On the courthouse steps, Baca referred to the cellphone his deputies discovered on an inmate at Men's Central Jail and defended his actions. The phone had been smuggled into the jail by FBI agents as part of a sting.
Read the full story on LATimes.com.