This is an archived article and the information in the article may be outdated. Please look at the time stamp on the story to see when it was last updated.
Jewelry, watches, cash and high-end purses are missing from the home of former Lakers coach Byron Scott following a burglary of his Hermosa Beach residence on Saturday, police said.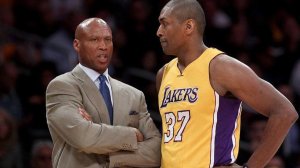 A patio door was found to have been forced open and an estimated $200,000 in valuables was reported missing after police arrived around 1:30 p.m., said Hermosa Beach Police Sgt. Robert Higgins.
Scott's house is the latest to be hit in a series of burglaries in the Los Angeles area targeting celebrities including Nicki Minaj, Alanis Morissette and former Lakers Nick Young and Derek Fisher. In Morissette's case, thieves took possessions worth $2 million.
Higgins said investigators don't know whether the burglary of Scott's house is related to any others.
Read the full story on LATimes.com.