This is an archived article and the information in the article may be outdated. Please look at the time stamp on the story to see when it was last updated.
An ex-LAPD officer accused of fleeing to Mexico following a fatal off-duty shooting in March was charged with murder and other counts Friday, when he appeared in court but saw his arraignment postponed for several weeks.
Henry Solis, 27, allegedly shot and killed 23-year-old Salome Rodriguez after the two got into a fight outside a bar in Pomona on March 13. Solis allegedly chased the victim down and shot him multiple times.
After more than two months on the run, Solis was arrested in Mexico on May 26 and arrived at a Pomona city jail following extradition from El Paso Thursday.
Solis, a probationary Los Angeles Police Department officer at the time of the shooting, was fired by LAPD Chief Charlie Beck after being named as a suspect in the killing.
Solis has been charged with one count of murder and one count of assault with a firearm, the Los Angeles County District Attorney's Office stated in a news release Friday. The complaint against Solis also included a special allegation that he personally discharged a handgun.
He appeared in court in downtown Los Angeles Friday, hiding behind his attorney from news cameras.
His arraignment hearing was postponed until June 30, and a bail motion hearing was scheduled for Tuesday, the DA's office stated on Twitter.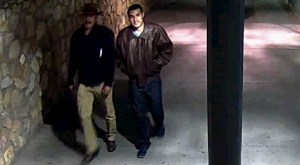 Outside the courtroom, Rodriguez's mother spoke to reporters, saying she had been nervous to see the man who allegedly killed her son.
"When they told me it was an off-duty officer, I think I was more hurt, more surprised — because you teach your kids that they're the people that protect and serve," said Lidia Rodriguez.
The charges, she said, marked the beginning of "justice" for her son.
Solis was ordered held on $2 million bail, an amount the victim's family wants to see increased.
If convicted, he faces up to life in state prison, the DA's office stated.
Solis' 53-year-old father Victor was convicted on Thursday by a federal jury in Texas for lying to FBI agents in connection with the case. He faces up to five years in federal prison and a $250,000 fine.
Henry Solis has also been charged in a federal criminal complaint with flight to avoid prosecution. He allegedly moved among relatives' home in Mexico, and was finally arrested in Ciudad Juarez, across the border from El Paso.
More Video: