This is an archived article and the information in the article may be outdated. Please look at the time stamp on the story to see when it was last updated.
Former National Football League player Darren Sharper has been charged in the alleged drugging an rape of two women, the Los Angeles County District Attorney's Office announced Friday morning.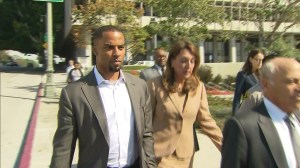 "Sharper is charged with two counts of rape by use of drugs, four counts of furnishing a controlled substance and one count of possession of a controlled substance, all felonies," a release from the DA's office stated.
Sharper, a former All-Pro safety who won a Super Bowl with the New Orleans Saints, was arrested by Los Angeles police last month after being accused in two separate incidents that occurred last October and in early January, authorities said.
According to prosecutors, each incident began when Sharper, 38, invited the women he met at a West Hollywood nightclub to a party. He then took the women to a West L.A. hotel room, where the women passed out after he allegedly gave them each a shot, the release stated.
Prosecutors allege that in one of the incidents — which involved two women — a woman woke up naked while Sharper was sexually assaulting her. The other woman allegedly woke up and "interrupted his actions," according to the release.
In the second incident — also involving two women — one of the women allegedly woke up and believed she had been sexually assaulted, according to the DA's office. She and the other woman left the hotel and sought treatment at a hospital, the release stated.
Sharper, who resides in Miami, was out on $200,000 bail. However, prosecutors on Friday filed a motion asking for his bail to be raised to $10 million because he was also suspected of raping other women in Arizona, Nevada and Louisiana, court documents showed.
"After a review of the fact in this matter, I believe that the defendant is involved in seven acts of rape and eleven acts of furnishing a controlled substance. These acts occurred on four separate occasions from September 2013 to January 2014. They occurred in Los Angeles, California; Tempe, Arizona; Las Vegas, Nevada; and New Orleans, Louisiana," John Macchiarella, an officer investigating the case, stated in the court filing.
"The amount of bail is insufficient based on the aforementioned facts and circumstances," Macchiarella said, according to the documents.
Sharper appeared in court on Friday.
He faces more than 30 years in prison if convicted.