This is an archived article and the information in the article may be outdated. Please look at the time stamp on the story to see when it was last updated.
Former NFL player and Harvard-Westlake graduate Jonathan Martin has been charged with making criminal threats stemming from an Instagram post with guns that prompted the closure of the school's two campuses in February, officials announced Tuesday.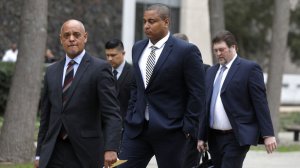 Martin, 28, posted a photo of a shotgun to his verified but private Instagram account, writing "When you're a bully victim & a coward, your options are suicide or revenge."
The post included the hashtags #HarvardWestlake and #MiamiDolphins, his former professional football team.
Harvard-Westlake's Studio City and Beverly Crest campuses were closed because of the post.
Martin left the Dolphins in 2013 after accusing former teammates, including Richie Incognito, of bullying him, according to CNN.
He had previously posted on social media about suicide attempts while playing in the NFL.
Martin surrendered Tuesday in a Van Nuys courtroom.
He pleaded not guilty to four felony counts of making criminal threats and one misdemeanor count of carrying a loaded firearm in a vehicle. He posted $210,000 bail, his attorney, Winston McKesson, told CNN.
McKesson added that he doesn't believe Martin is guilty of any crime.
"This was a cry for help," McKesson said, and adding that Martin is getting treatment for his emotional state.
Martin is scheduled to return to court on April 25 for a preliminary hearing. He faces up to six years in custody if convicted as charged.