This is an archived article and the information in the article may be outdated. Please look at the time stamp on the story to see when it was last updated.
Ex-NFL star Darren Sharper entered a "no contest" plea in a downtown courtroom on Monday morning to charges that he drugged and raped two women, according to the Los Angeles County District Attorney's Office.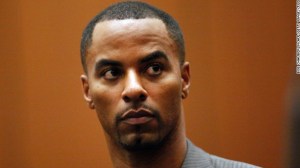 Sharper, 39, pleaded to two counts of rape by use of drugs and four counts of furnishing a controlled substance in connection to two separate assaults that occurred in October 2013 and January 2014, the DA's office said in a press release.
In the first incident, which occurred on Oct. 30, 2013, he met two women at a West Hollywood nightclub, invited them up to his hotel room and gave them drinks. Both women passed out, prosecutors said in the release.
Hours later, one of the victims awoke naked to find that the ex-NFL player was sexually assaulting her, according to the DA's office. The second woman woke up and "interrupted his actions," and the two left, the release stated.
Less than three months later, Sharper again was accused of meeting two women at the same nightclub, taking them up to his hotel room and giving them shots that caused them to pass out, prosecutors said.
One of the victims woke up the following day and believed she had been sexually assaulted. Both women then left the room.
Under a negotiated settlement, he is expected to be sentenced to 20 years in a state prison, according to the DA's office.
Sharper, who faces sexual assault-related charges in three other states, also made deals earlier on Monday in connection with cases in Arizona and Nevada, the Los Angeles Times reported.
He could serve up to 9 years in federal prison as a result of the guilty pleas in those two states, according to the Times.
A case in Louisiana is still pending against Sharper, but the former All Pro-safety is expected to enter a guilty plea within the next month, the newspaper reported.
His sentencing has been scheduled in Los Angeles for July 15, according to the DA's office.