This is an archived article and the information in the article may be outdated. Please look at the time stamp on the story to see when it was last updated.
Former Stanford University swimmer Brock Turner is expected to be released from jail after only serving half of his sentence following his conviction on multiple sexual assault charges, inmate records showed.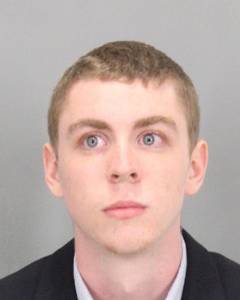 Turner, 20, was sentenced last week to six months in jail after a jury found him guilty in March of assault with intent to commit rape of an intoxicated/unconscious person, penetration of an intoxicated person, and penetration of an unconscious person, according to the Santa Clara County District Attorney's Office.
He is expected to be released from jail Sept. 2, online records from Thursday showed. Turner was booked one week ago, the same day the sentence was handed down by Judge Aaron Persky.
Santa Clara County inmates typically serve half of their jail sentences if they keep a clean record, according to Bay Area-television station KRON.
In general, state inmates serve roughly 50 percent of their sentences before being released, the station reported.
Prosecutors in the Turner case had asked that he serve six years in prison.
However, Persky ordered the shorter sentence, saying a longer one would have a "severe impact on him," according to CNN. The judge also said he took his age and lack of criminal history into account.
The decision has prompted a backlash, with many — including the prosecutor — decrying the sentence as too lenient.
A change.org petition to have Perksy removed from the bench has received more than 900,000 signatures as of Thursday morning.
"Judge Persky failed to see that the fact that Brock Turner is a white male star athlete at a prestigious university does not entitle him to leniency. He also failed to send the message that sexual assault is against the law regardless of social class, race, gender or other factors," the petition read.
In addition to the petition, some have taken to social media to express their support for the unnamed 23-year-old survivor, whose emotional and gut-wrenching victim impact statement that detailed the horrific impact the assault had on her life went viral after being released by the DA's office.
Correction: An earlier version of this story included incorrect charges against Brock Turner. It has been updated.