This is an archived article and the information in the article may be outdated. Please look at the time stamp on the story to see when it was last updated.
A former Corona high school teacher who admitted to 16 felony counts related to sex acts with five underage male students was sentenced Friday to three years in state prison and told she must register as a sex offender for life.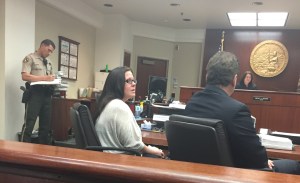 Summer Michelle Hansen, 32, appeared in court in Riverside in connection to crimes that occurred in 2012 and 2013. She admitted to those counts in at a Feb. 27 court hearing, a spokesman for the Riverside County District Attorney's Office said.
Sobbing, Hansen made an emotional plea to the families of her victims, saying she was "heartbroken" and that she prayed for them every night.
"I'm not a monster. I made bad choices in life and for that I'm truly, truly sorry," Hansen said.
Hansen's attorney said his client did not want to pass up the opportunity to apologize.
"She knew that this was her last chance to apologize to five young men, who no question were, to some extent or another victimized by her actions," attorney David Wohl said outside of court. "That was heartfelt. That was 100 percent genuine. That was an opportunity she did not want to pass up."
Her apology had no impact on the victim's parents who called her a "predator" and a "whore" who violated the trust of the students. "This predator stalked my child in the sanctuary of a school," the mother of John Doe No. 2 said in court.
The parents were also not happy with the three-year sentence.
One parent called the sentence "a slap on the wrist" for Hansen but a "slap in the face" for the victims.
"I'm disappointed in the judicial system with this ridiculously low offer,"  said the mother of John Doe No. 2 said.
Hansen was a special education teacher at Centennial High School in Corona when the crimes occurred. The victims were not her students but attended the school and were under 18, the DA's office said in March 2014, when Hansen waived her right to a preliminary hearing.
The Corona-Norco Unified School District alerted police to an inappropriate relationship between Hansen and a former student in June 2013, prompting her arrest, authorities said at the time.
The complaint against her stated she had sex with students in her classroom, in a utility room at the school, in a car and at a student's home. She was also accused of sending naked pictures of herself to teen students.
Hansen was charged with 16 felony counts, including unlawful sexual intercourse with a minor, unlawful oral copulation with a minor and sending harmful matter to a minor.
Because Hansen entered a plea directly to the judge and not through a plea agreement with a prosecutor, she had to plead guilty to all counts she was charged with, DA's office spokesman John Hall confirmed.
The charges carried a possible sentence of up to 13 years in state prison, the DA's office said last year.
A judge indicated last month that she planned to sentence the ex-teacher to three years in custody unless a probation report indicated a longer sentence was appropriate, the Riverside Press-Enterprise reported in February.
Prosecutor Kimberly Williams said the DA's officer opposed the shorter sentence.
In general, a defendant who enters a guilty plea directly to the court has some indication from a judge what his or her sentence might be, Hall said.