This is an archived article and the information in the article may be outdated. Please look at the time stamp on the story to see when it was last updated.
Possible record-breaking temperatures were expected in L.A. and Ventura Counties over the weekend, with the heat reaching triple digits in some areas.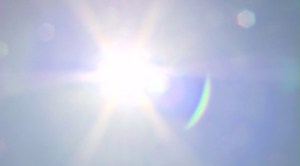 An excessive heat warning was in effect Sunday from 10 a.m. to 7 p.m., predicting possible life-threatening temperatures, the National Weather Service stated.
An excessive heat watch was then scheduled to take effect until Tuesday evening,  warning people that high temperatures were expected but exact times were unknown.
Temperatures were expected to reach over 100 degrees in some areas during the day, and be in the 70s overnight.
The hot weather increased possible fire dangers one day after the Silverado Fire broke out in the mountains of Cleveland National Forest south of Corona, scorching 1,600 acres and prompting evacuations.
People were advised to bring their pets indoors and not leave animals or children inside vehicles.
"The combination of heat and humidity may create a dangerous situation in which heat illnesses are possible," the NWS stated.
It was also advised that people reschedule strenuous activities for early morning hours when it was expected to be cooler.
City facilities could be used as cooling centers, the L.A. Emergency Management Department suggested.
Senior citizen centers, recreation and parks facilities and libraries were expected to be open during normal business hours Saturday, which could be checked online.
The following city centers were scheduled to be open from noon to 9 p.m. Sunday:
Alpine Recreation Center, 817 Yale St. L.A., 213-485-5448

Lanark Recreation Center, 21816 Lanark St. Canoga Park, 818-883-1503

Lakeview Terrace Recreation Center,11075 Foothill Blvd. Lake View Terrace, 818-899-8087

Jordan Downs Recreation Center, 9900 Grape St. L.A., 213-485-1835

North Hollywood Recreation Center,11430 Chandler Blvd. North Hollywood, 818-763-7651

Sepulveda Recreation Center, 8801 Kester Ave. Panorama City, 818-893-3700

Sherman Oaks/East Valley Adult Center, 5060 Van Nuys Blvd. Sherman Oaks, 818-981-1284

Sunland Park Senior Center 8640 Fenwick St. Sunland, 818-353-9571
More Video: