This is an archived article and the information in the article may be outdated. Please look at the time stamp on the story to see when it was last updated.
UPDATE: Police on Wednesday identified a man seen bashing in a patrol car's windows the previous day. Click here for details.
A man was taken into custody Tuesday afternoon after brazenly smashing the windows of an LAPD car at one of the busiest intersections in Hollywood — and the incident was caught on video by a KTLA photographer.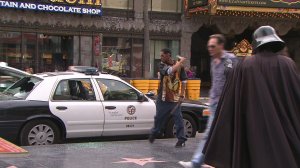 The man yelled "I love Jesus Christ" and began smashing the windows of a Los Angeles Police Department patrol car just before 1 p.m. at Hollywood Boulevard and Highland Avenue, according to KTLA's Victor Vargas.
Vargas was shooting video in the area for an unrelated story when he heard the man yell out and then bash out the rear window of the black-and-white.
The clearly marked police car was parked along Hollywood Boulevard in front of the Hollywood & Highland shopping center and across from El Capitan Theatre.
As the incident took place, passersby walked through the scene and actors costumed as superheroes and villains — who pose for photos with tourists in the area — milled about nearby.
Vargas walked away and heard the man continue smash the patrol car's other windows. As Vargas called 911, he recorded video of the violent incident.
The man was armed with two metal construction stakes, one in each hand, Vargas said.
After smashing the car's windows, the man removed a laptop computer from the vehicle and then walked to a nearby kiosk, where he opened it and began to use it, video showed.
Meanwhile, a lightsaber-wielding actor dressed as the Star Wars character Darth Vader watched.
At one point, the man who smashed the car looked directly at Vargas' camera, and then back at the laptop.
Within minutes, police officers arrived and pulled the man down onto the Walk of Fame, handcuffing him. An actor costumed as Superman approached to watch the arrest.
"I saw the whole thing," said the man dressed as Superman. "It's not my job to jump in the middle."
The incident was confirmed by LAPD Officer Wendy Reyes. No information on the man arrested was immediately available.
Broken safety glass remained littering Hollywood Boulevard early Tuesday evening.