This is an archived article and the information in the article may be outdated. Please look at the time stamp on the story to see when it was last updated.
Firefighters worked to extinguish a fire at an Oxnard home after a gas line ruptured, displacing multiple residents and possibly causing an explosion Thursday morning.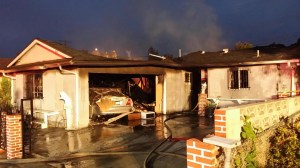 The Oxnard Fire Department responded to reports of a structure fire and explosion around 2:50 a.m.  in the 1600 block of East 1st Street (map), Battalion Chief Sergio Martinez with the department said.
The roof was beginning to collapse and there was partial structure damage when firefighters arrived, Battalion Chief Kevin Schroepfer said.
"As they made an attack around back they noticed that there was a gas line that had been ruptured and it was just shooting flames, probably 20 feet up into the air," Schroepfer said.
The blaze was mostly extinguished in about 20 minutes, Martinez said.
Residents of the home were at a nearby hospital for an unrelated medical issue during the time of the fire, Schroepfer said.
Eight people were evacuated, including residents of an adjacent home that was damaged by the fire were evacuated and residents from another nearby home, Martinez said.
No injuries were reported.
The gas company planned to "pinch off" the gas line by accessing it through the street because fire prevented them from accessing the leak, Martinez said.